opening hours
Mo-Sun
09:00 - 21:00
location
1. overhead floor

Contacts

operator & Manager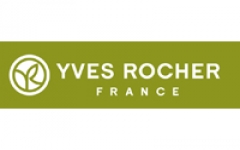 Come and choose from more than 500 products inspired by plant world which comprises of care about skin and body, hygienic and sunscreen products, perfumes for women and men and decorative cosmetics. Experienced cosmetics assistants can recommend you the products suitable just for you.
French cosmetics company Yves Rocher, brand number 1 in plant cosmetics in France, was founded in 1959 in French Brittany, Yves Rocher checks all stages of production of his cosmetics products and due to that he can meet his obligations to women, plant world and the planet Earth.
Yves Rocher products are hypoallergenic, dermatologically tested and ophthalmologically tested.
Use discounts of the Loyalty system! Would you like to gain exclusive discounts and receive special offers for your favourite products at your home and get every month an original present? Come for your Loyalty card to the Yves Rocher shop!